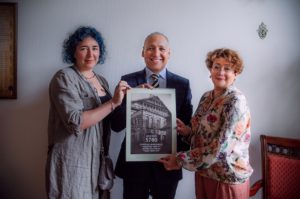 The year 2020 (5780) is special for Litvaks, no matter whether they live in Lithuania, Israel, South Africa, Argentina, The United States or anywhere else in the world. This year marks an important anniversary for the entire Jewish world, the 300th birthday of the great Jewish genius, spiritual leader and founder of the Litvak identity, the Vilna Gaon, and likewise the first synagogue in Vilnius, which later acquired the name the Great Synagogue, would mark its 580th anniversary in 2020. The year 2020 also marks the 200th anniversary of the Vilnius Jewish religious community of maskilim who later built the Choral Synagogue or Taharot ha Kodesh in Vilnius.
This calendar is dedicated to commemorate these anniversaries and represents the Litvak heritage in Lithuanian – remaining Lithuanian Jewish synagogues.
Price 10 Eur.
Giving away for free!