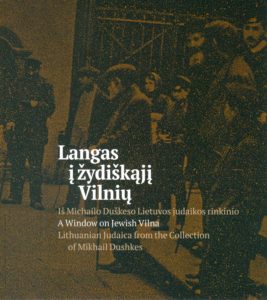 This catalogue, is composed on the basis of a collector, businessman and sportsman Mikhail Dushkes exhibition "The Life of Vilnius Jews until Holocaust. Original Documents from Personal Collection of Mikhail Dushkes". The collector began to form his collection about interwar Judaica of Lithuania and Vilnius 15 years ago. Comprising manuscripts, published documents and printed ephemera, paintings and photographs, religious artefacts, and many other pieces, it can be regarded as one of the most comprehensive collections of Judaica in Lithuania. A reader of "A Window on Jewish Vilna" will find only a small part of Mikhail Dushkes' collection. However, it is a glimpse at a cherished and unforgettable past that continues to have a strong impact on all of us, and on the collector himself.
Editor and consultant of the publication – dr. Lara Lempertienė. Artist of the publication – Jokūbas Jacovskis.
Publishing house "Inter se".
Price: 5 Eur.