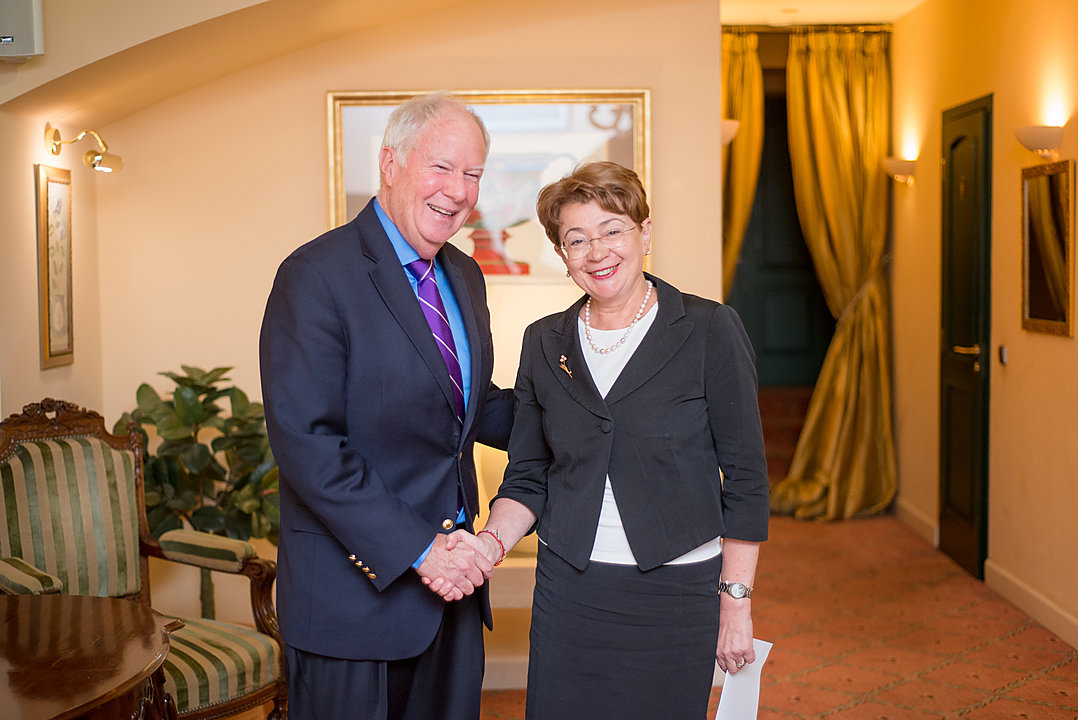 Co-chairpersons of the Board
The Board of the Good Will Foundation is headed by the two co-chairpersonsi Andrew Baker and Faina Kukliansky. Rabbi Baker is the Director of International Jewish Affairs at the American Jewish Committee, AJC). F. Kukliansky, a professional lawyer, is currently the Head of the Lithuanian Jewish (Litvak) Community.
Both co-chairpersons have been members of the initiative group, which started negotiations regarding restitution of communal property of Jewish religious communities with Lithuanian authorities more than a decade. Negotiations were successful and resulted in adoption of the Good will compensation law in 2011, based on which the Good Will Foundation was established.
The Good Will Foundation was established by the Lithuanian Jewish Heritage Foundation.
Board of the Good Will Foundation
Andrew Eliot Baker – Co-chair of the Board
Faina Kukliansky – Co-chair of the Board
Arie Bucheister, The Conference on Jewish Material Claims Against Germany
Shmuel Levin, Head of the Jewish religious community of Lithuania
Reuven Dessler
Josifas Buršteinas, Head of the Jewish Community of Šiauliai (Shavl)
Miša Jakobas, Head of the Vilnius Sholom Aleichem ORT school
Gita Grinmanienė, Former Prisoners of Ghettos Charity and Sponsorship Fund
Nachliel Dison, World Jewish Restitution Organization
Markas Zingeris, Head of the Vilnius Gaon Jewish state museum
Michael Hilsenrath, World Jewish Restitution Organisation  
Board of the Lithuanian Jewish Heritage Foundation
Andrew Baker, American Jewish Committee
Julius Berman
Herbert Block, Executive Director of American Zionist Movement; Member of the U.S. Commission for the Preservation of America's Heritage Abroad
Shmuel Levin, Head of the Jewish religious community of Lithuania
Reuven Dessler
Robert Grey, Chair of the World ORT Restitution Committee
Josifas Buršteinas, Head of the Jewish Community of Šiauliai (Shavl)
Genadij Kofman, Head of the Jewish Community of Panevėžys (Ponevezh)
Faina Kukliansky, Head of Jewish (Litvak) Community of Lithuania
Arkadijus Maizelis, Ad personam
Daniel Mariaschin, B'nai B'rith International
Prof. Leonidas Melnikas, Ad personam
Mark Levin, National Coalition Supporting Eurasian Jewry
Nachliel Dison, World Jewish Restitution Organization
Feliksas Puzemskis, Head of the Jewish Community of Klaipėda (Memel)
Baruch Shub
Gercas Žakas, Head of the Jewish Community of Kaunas (Kovno)
Arturas Taicas, Head of the Jewish Community of Ukmergė (Vilkomir)
Michael Hilsenrath, World Jewish Restitution Organisation