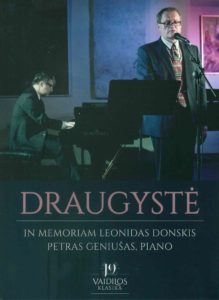 DVD
Pianist Petras Geniušas and philosopher Leonidas Donskis, who died in 2016, were friends ted by creative partnership. They worked together on several artistic projects and planned many more of them.
Concert, recorded in this DVD is dedicated to commemorate Leonidas Donskis and the friendship of the two prominent persons in Lithuania.
As a private cultural organization, Vaidilos Klasika stands out due to it's focus on classical music and commitment to helping the young generation of Lithuanian musicians grow. Vaidilos Klasika has embarked on a mission of bringing classical music and its outstanding performer closer to the audience. To achieve this, the organization has employed a variety of unconventional solutions, including innovative media communication and educational projects.
Petras Geniušas, piano:
LUDWIG VAN BEETHOVEN – Sonata No. 8, Pathétique, in C minor, Op. 13
SERGEY PROKOFIEV – Sarcasms, Op. 17
FRÉDÉRIC CHOPIN – Scherzo No. 1 in B minor, Op. 31
JOHANN SEBASTIAN BACH – Italian Concerto in F major, BWV 971
SAMUEL BARBER – Fugue from the Piano Sonata in E-flat minor, Op. 26
Price: 3 Eur