In December 2019, the conference was held in Vilnius, Lithuanian Jewish (Litvak) Community (LJC), to commemorate the 10th anniversary of Terezin declaration, dedicated to solving Holocaust victims' property restitution questions. The experiences of returning assets of European countries were reviewed. Participants of the event had the chance to meet well-known Holocaust historians, to hear their presentations, to get acquainted with the results of many years of research. Lithuanian speakers had the opportunity to present Lithuania's situation and to define goals and objectives for the future.
Jewish Community leaders from Czech Republic, Poland, Latvia and Hungary participating in the conference spoke about property restitution problems and unfulfilled promises of their governments, procrastination of cases in their countries and the prospect of creating new laws regarding property restitution procedures.
In 2009, 47 countries signed Terezin declaration in Prague regarding the restitution principles of seized property of European Jews, Lithuania was among them.
In December 2021, an e-publication was published to commemorate this conference.
In her introductory speech to the e-publication, Faina Kukliansky, Chair of the LJC, states: "The question of restitution is not primarily a legal question, but a political, humanistic one. The Lithuanian state is obliged to recognize its responsibility as a state. We talk so much about the continuity of citizenship and the connection with the state, we discuss the restoration of citizenship, but we immediately forget everything when it comes to taking care of victims of the Nazis and returning what was once looted."
The e-publication contains all presentations of the conference speakers. We invite you to read the e-publication: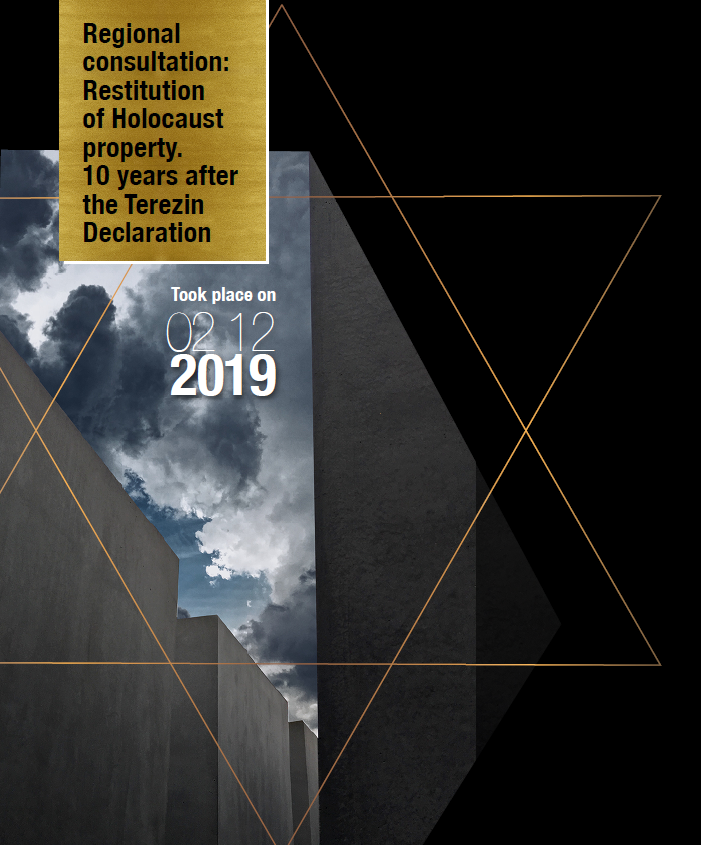 Photos from the conference held on December 2019. ©Good Will Foundation
---
Ten years have passed since the Terezin Declaration on Holocaust Era Assets and Related Issues was approved by 47 countries. It announced a program of activities geared towards ensuring assistance, redress and remembrance for victims of Nazi persecution. Of special note is that participating countries emphasized the importance of providing restitution for communal and individual immovable property:
"Noting the importance of restituting communal and individual immovable property that belonged to the victims of the Holocaust (Shoah) and other victims of Nazi persecution, the Participating States urge that every effort be made to rectify the consequences of wrongful property seizures, such as confiscations, forced sales and sales under duress of property, which were part of the persecution of these innocent people and groups, the vast majority of whom died heirless".
There has been significant but mostly partial progress in these efforts. This anniversary year provides an opportunity to highlight the successes and identify best practices as well as take note of areas that still need to be addressed.
The Good Will Fund of Lithuania, established to administer Jewish communal restitution funds, proposes to host a one-day consultation in Vilnius to commemorate the 10th anniversary of the Terezin Declaration. The consultation will bring together Jewish communal leaders, representatives of international Jewish organizations, and officials from the Lithuanian government and other interested countries. We look forward to sharing our respective experiences and devising strategies to advance our common goals.
Proposed content of the event:
Official opening;
Discussion of immovable private property restitution;
Discussion of immovable Jewish communal and religious property restitution;
Open discussion on related issues.
Proposed invitation list:
Representatives of the World Jewish Restitution Organization and other International Jewish organizations;
Ambassadors and Special envoys for Holocaust Issues from interested countries;
Representatives of Litvaks living in Israel and other countries;
Jewish community leaders and/or restitution foundation directors from countries in Europe and the Former Soviet Union;
Representatives of the Lithuanian government.